2019 Ottawa FIRST LEGO League Kickoff
PRESENTED BY:

After the release of the new FIRST LEGO League (FLL) challenge in August, students, coaches, and parents from across Ottawa and Eastern Ontario will gather at Carleton University in September to celebrate the launch of a brand-new season. Embracing the ideals of teamwork, friendship, and fun, FLL Teams learn more about the game, receive guidance on strategy, robot design, and programming, and seek advice from FLL Alumni, Coaches, and Volunteers. Students will also get the opportunity to meet with local high school-aged FRC Teams to preview the next level of FIRST competition, while Coaches and Parents can make valuable connections with experienced FIRST Alumni, Tournament Volunteers, sponsors, and partners.
A huge Thank You to the Carleton University Faculty of Engineering and Design, the Presenting Sponsor of this year's Kickoff, as they continue to be one of CU FIRST's strongest partners and one of the largest supporters of FIRST in the National Capital Region.
---
Event Details
Date: Saturday, September 21st, 2019
Time: 9AM – 5PM
Cost: FREE
All members of the FIRST community across Eastern Ontario are more than welcome to join us, including friends and family! We also encourage teams to invite their sponsors, partners, local politicians, and other special invited guests to attend and learn more about FIRST Robotics.
Team Sign-Up
Registration for the next Ottawa FLL Kickoff will open in August 2020.
Contact Us
We're here to help! Please forward any questions, special requests, or concerns via email to our FLL Director.
Workshop Presenters and Volunteers Needed
This event would not be possible without volunteers. Registration for the next Ottawa FLL Kickoff will open in August 2020.
Location
Tory Building, Carleton University
1125 Colonel By Drive
Ottawa, ON, K1S 5B6
Parking
Please use Parking Lot P-1, Located on Library Road.
Complimentary All-Day Parking Passes will be distributed to all drivers on the day of the event and will be available upon request from any CU FIRST Member. One of our members will also be standing at the entrance to P-1 on Library Road and will hand out passes as vehicles enter the lot. All parking lots on the Carleton campus, including P-1, require proof-of-payment displayed in the front windshield, therefore, all vehicles must have a Parking Pass visible at all times while in the lot.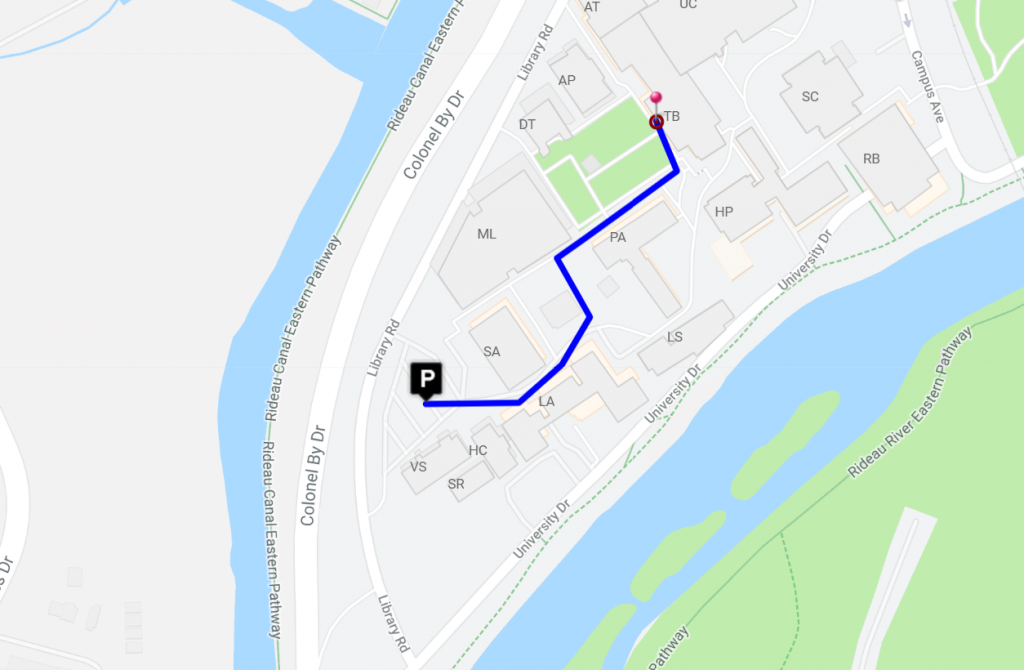 Get Navigation Directions in Google Maps
If entering via Colonel-By Drive: Take the first left-turn on to Library Road, and the entrance to Parking Lot P-1 will be on you right.
If entering via Bronson Avenue: Drive straight, past the Parking Garage, and turn left on to Campus Avenue. Continue on Campus Avenue past the Residence buildings, then turn right on to Library Road. Continue on Library Road, past the Library, then the entrance to Parking Lot P-1 will be on your left.
Lunch
Thanks to the generous sponsorship of the Carleton University Faculty of Engineering & Design, all attendees will be treated to a free Pizza lunch, including a variety of beverages (Bottled Water, Soft Drinks, etc). Traditionally, the selection includes Cheese, Pepperoni, Deluxe, Meat-Lovers, and Hawaiian, in addition to Vegetarian, Vegan, Halal and Gluten-Free options. If you have any other special dietary needs or restrictions that need to be met, please contact the CU FIRST FLL Director to make special arrangements. We'll do our very best to accommodate any requests, as long as advanced notice is provided.
Note: Per Carleton University policy, all food served on-campus must be provided by Aramark and their affiliated on-campus vendors, unless special permission is given. Food ordered-in through off-campus vendors is not allowed.
Event Schedule
| | | |
| --- | --- | --- |
| Time | Event | Location |
| 8:30AM – 9:00AM | Arrival and Check-in | Tory Building 360 |
| 9:00AM – 9:45AM | Welcome and Announcements | Tory Building 360 |
| 9:45AM – 11:45PM | Workshop Sessions | Breakout Rooms |
| 11:45PM – 12:45PM | Lunch | Tory Building 360 |
| 12:45PM – 1:30PM | Core Values | Breakout Rooms |
| 1:30PM – 4:00PM | Team Breakouts | Breakout Rooms |